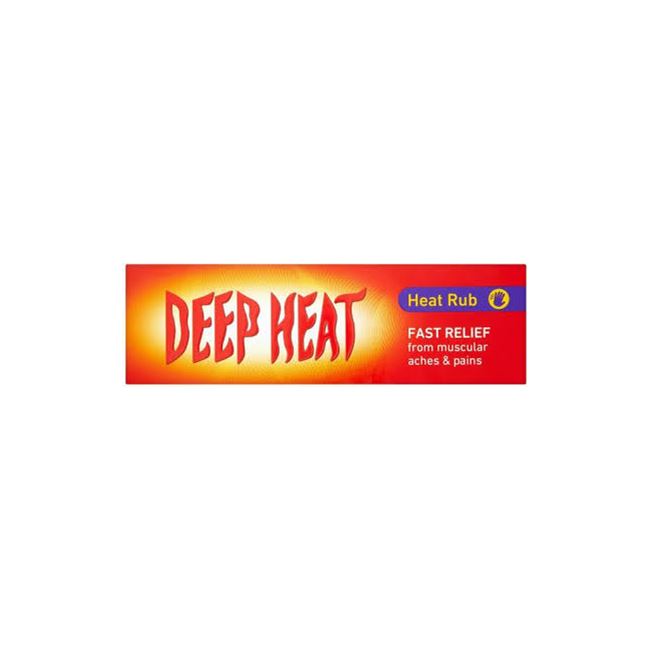 Deep Heat (menthol, eucalyptus, methyl salicylate, turpentine oil) heat rub 100g
Deep Heat relaxes muscle easing and soothing the pain of aching muscles
More Details
Description
Ingredients
Warnings
Delivery
Description
Deep Heat helps ease pain by generating warmth and increasing the blood supply to the affected area. Helping soothe sore, aching or injured muscles and relax them, this product can be used for:
Backache and lumbago Sciatica (pain in the lower back and tight)
Fibrositis (muscle tenderness or stiffness)
Rheumatic pain (in muscles, tendons, joints or bones)
Chilblains
Bruises
Sprains
Minor sports injuries
How to use Deep Heat
Try the product on a small area of skin before use.
Apply a small layer by gently massaging it to the affected area until the gel has been rubbed in completely
Wash your hands immediately after use to avoid getting it on sensitive areas such as eyes or lips
Do not cover the area with bandages, plasters or any sort of dressings
Adults and children over 5 years:
Apply 2-3 times daily.
Possible side effects :
If you have sensitive skin or use the product immediately after a hot bath you may experience:
Temporary skin redness
Burning sensation
Rashes
Skin burns or blisters
Avoid contact with the eyes, nose, mouth or genitals
Deep Heat contains:
Propylene glycol which may cause skin irritation
Wool fat (lanolin) and cetostearyl alcohol which may cause local skin reactio
If you have any further questions about this product call our Browns Online Professional Pharmacist on 02476 364 586



Ingredients
Active Ingredients: Menthol 5.91% w/w, Eucalyptus oil 1.97% w/w, Methyl salicylate 12.80% w/w,Turpentine oil 1.47% w/w
Other Ingredients: sodium cetostearyl sulfate, cetostearyl alcohol, propylene glycol, wool fat (lanolin), liquid paraffin and water
Warnings
Do not use more than the recommended dose.
For external use only.
Do not use this product if:
You are allergic to any of the ingredients
You are allergic to aspirin, ibuprofen and other non-steroidal anti-inflammatory drugs (NSAIDs)
Broken or inflamed skin
Talk to your doctor or pharmacist if you:
are pregnant or breast feeding.
Have asthma or other respiratory problems
Take any other medication, especially:
Anticoagulants (medication that thins the blood e.g. warfarin)
Delivery
Standard Delivery
Free Delivery on all orders over £35.00
Orders below £35.00 are at charged at just £3.99
Delivery is within 2-3 days via Royal Mail 1st Class post.
Same Day Delivery
Receive your order on the same day, hand delivered by one of our delivery drivers.
A single charge of £5.99 per order
Available Monday to Friday - Cut off for same day delivery require orders to be placed before 3pm
Click and Collect
Order your product for same day collection at the branch closest to you FREE OF CHARGE
This service is currently in the process of being rolled out across all branches, however, during this time certain branches may not appear on the drop down menu.