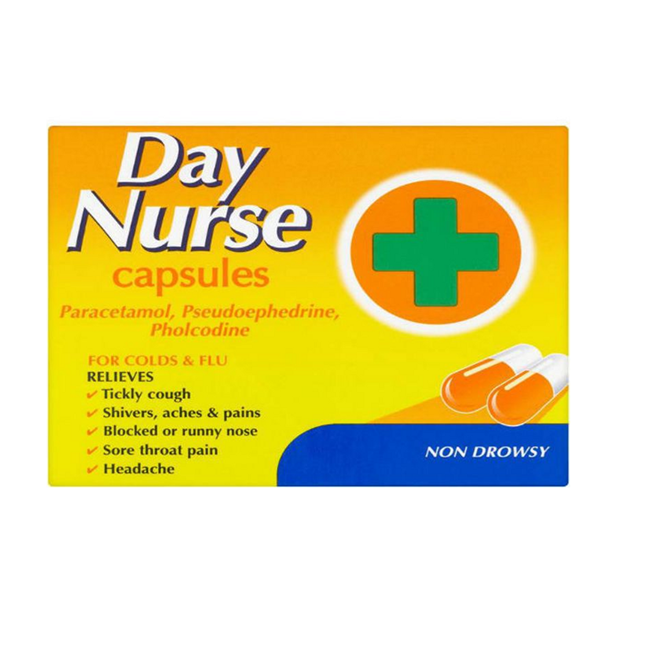 Day Nurse Capsules 20
Day Nurse provides quick and effective relief of cold and flu symptoms to get you back doing what you love most
More Details
Description
Ingredients
Warnings
Delivery
Description
Day Nurse capsules contain three active ingredients that all work together to provide relief of symptoms of cold and flu and help you to carry out your daily activities. Paracetamol has antipyretic properties which basically means it reduces your temperature during a fever. Pseudoephedrine hydrochloride is a decongestant that helps to opens your airways, allowing you to breathe more easily and pholcodine is a cough suppressant to provide relief of dry or tickly coughs.
How to take Day Nurse Capsules
Adults aged 16 years and over
2 capsules every four hours as required. No more than 8 capsules (4 doses) in any 24 hour. Do not take for more than 7 days.
Children under the age of 16 years
Not recommended
Possible side effects
Common side effects you may experience when taking this medication include:
Nervousness, difficulty sleeping, anxiety, tremor
Nausea and vomiting
Dizziness and sweating
Dry mouth may occasionally occur
Hallucinations (particularly in children) have been reported rarely
If you have any further questions about this product call our Browns Online Professional Pharmacist on 02476 364 586
Ingredients
Active ingredients: Paracetamol 500mg, Pseudoephedrine Hydrochloride 30mg, Pholcodine 5mg.
Other ingredients: Sodium lauryl sulphate, Sodium starch glycollate, Magnesium stearate E572, gelatin, Quinoline yellow E104, Allura red E 129, Titanium dioxide E171 and Printing Ink Opacode black (containing: shellac, isopropyl alcohol, iron oxide black (E172), propylene glycol (E1520), ammonium hydroxide (E527) and n-butyl alcohol).
Warnings
Do not take more than the recommended dose / Do not take anything containing paracetamol or antihistamines alongside this medication / This medicine can cause dependence (short term use only) / Avoid alcohol / May cause dizziness / Do not take if you have ever had an allergic reaction to any of the ingredients, have high blood pressure, heart disease, kidney problems or hyperexcitability (of reflexes), have a chest infection, worsening asthma or severe respiratory problems, take appetite suppressants or stimulant drugs called amphetamines, have taken monoamine oxidase inhibitors (MAOIs) prescribed for depression in the last two weeks, are taking an antibiotic called linezolid, experience sudden abdominal pain or rectal bleeding with Day Nurse capsules, due to inflammation of the colon (ischaemic colitis) – seek medical attention immediately / Speak to your doctor if you have liver or kidney conditions, have intolerance to some sugars, have an overactive thyroid gland, diabetes, an irregular heartbeat, phaeochromocytoma, glaucoma, epilepsy, difficulty passing urine, or prostate conditions, have asthma, long term cough or a cough which produces a lot of phlegm, are due to have an operation, are elderly and suffer from confusion, take medicines such as certain antidepressants (monoamine oxidase inhibitors) or antipsychotics, are skinny, underweight or regularly drink alcohol, are taking medicines to treat migraine e.g. medicines called ergot alkaloids.
Delivery
Standard Delivery
Free Delivery on all orders over £35.00
Orders below £35.00 are at charged at just £3.99
Delivery is within 2-3 days via Royal Mail 1st Class post.
Express Delivery (UK Mainland)
Next Day Delivery will cost £5.99
Cut off for Next Day is 2pm (Mon-Fri)
Orders placed after 2pm Mon-Fri will be dispatched the next working day.