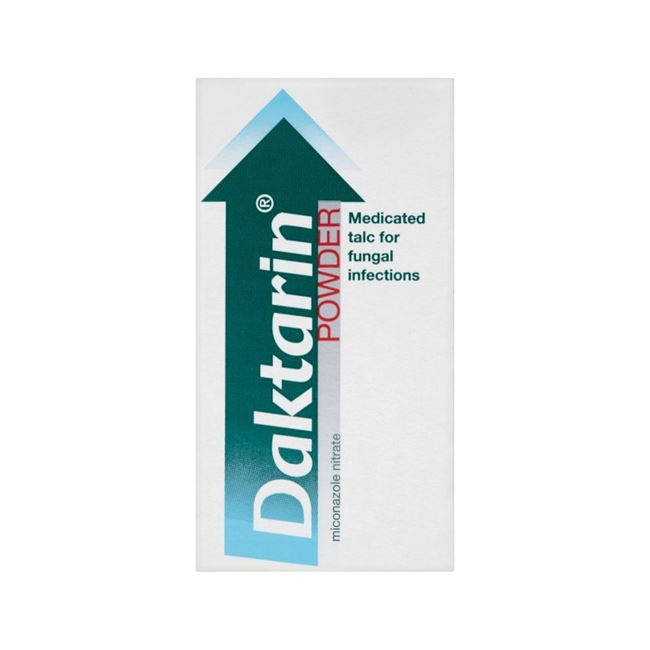 Daktarin (Miconazole) 2% w/w Powder 20g
Daktarin powder is a quick and effective treatment for fungal and bacterial infections of the skin.
More Details
Description
Ingredients
Warnings
Delivery
Description
Daktarin Powder effectively treats fungal and bacterial infections by destroying the fungus and any associated bacteria in areas such as:
Hands
Feet
Outer ear
Trunk or groin
It can also be used to treat nappy rash. As well as fighting the infection the powder helps to keep the area dry, preventing further fungal growth.
How to use Daktarin Powder
Adults and children of all ages
Apply the powder to the infected skin twice a day.
Wash and dry the infected area.
Sprinkle the powder onto the affected area, and surrounding skin. The powder may be used on broken skin, especially when a drying effect is need. You can, also, dust the powder inside socks, shoes, and clothing that will be in contact with the affected skin.
After applying the powder, wash your hands.
Do not use more often than the recommended dose.
To prevent the infection from coming back continue treatment for 10 days after all the symptoms have cleared. If using daktarin cream alongside, you can apply each once daily.
How to avoid spreading the infection
Avoid sharing towels with others, and use a separate towel on affected areas, for example, the feet.
Wash your hands before and after touching the affected area, to avoid spreading it to other areas.
Wash and change clothing, such as socks that come in contact with the infected area frequently.
Possible side effects
Common side effects that may be experienced include
Application site burning, warmth or itchiness
Skin inflammation or discoloration.
If you have any further questions about this product call our Browns Online Professional Pharmacist on 02476 364 586
Ingredients
Active ingredient: Miconazole nitrate
Other ingredients: Talc, zinc oxide and colloidal anhydrous silica
Warnings
For external use only / Avoid inhaling the powder, can irritate the airways / Speak to your doctor if you are taking anticoagulants, pregnant or breastfeeding
Delivery
Standard Delivery
Free Delivery on all orders over £35.00
Orders below £35.00 are at charged at just £3.99
Delivery is within 2-3 days via Royal Mail 1st Class post.
Same Day Delivery
Receive your order on the same day, hand delivered by one of our delivery drivers.
A single charge of £5.99 per order
Available Monday to Friday - Cut off for same day delivery require orders to be placed before 3pm
Click and Collect
Order your product for same day collection at the branch closest to you FREE OF CHARGE
This service is currently in the process of being rolled out across all branches, however, during this time certain branches may not appear on the drop down menu.