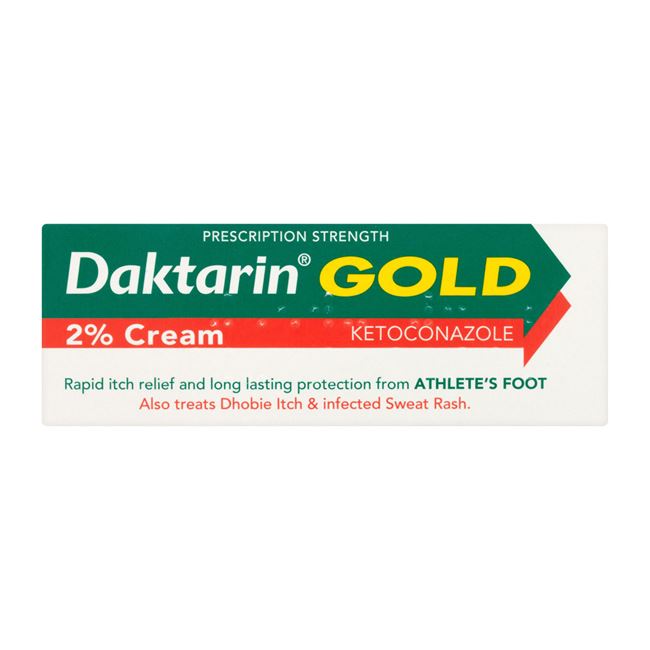 Daktarin Gold 2% Cream 15g
Rapid itch relief and protection from athletes foot
More Details
Description
Ingredients
Warnings
Delivery
Description
Daktarin Gold is used to treat skin infections which may appear on the feet (Athlete's Foot), in the groin area (Dhobie itch/tinea cruris) or between skin folds (sweat Rash infected with a yeast infection 'thrush').
The cream rapidly relieves the itching which these fungal infections cause. It also provides long lasting protection from Athlete's Foot, as it will continue to work even after you have stopped using it. The cream contains the active substance, ketoconazole, which works by destroying the fungi and yeasts that cause the infection.
How to use Daktarin Gold
For use in adults, for topical administration.
For tinea cruris, candidal intertrigo and tinea pedis
Apply to the affected and immediate surrounding areas once or twice daily. The usual duration of treatment is 2 - 4 weeks for tinea cruris, 2 – 4 weeks for candidal intertrigo and 4 – 6 weeks for tinea pedis.
Treatment should be continued, until a few days after disappearance of all symptoms. The diagnosis should be reconsidered if no clinical improvement is noted after 4 weeks of treatment.
If you have any further questions about this product call our Browns Online Professional Pharmacist on 02476 364 586
Ingredients
White cream containing ketoconazole 2% w/w. Excipients of known effect: propylene glycol, cetyl alcohol, stearyl alcohol
Warnings
Avoid if known hypersensitivity to the active substance or to any of the excipients. Not for ophthalmic use. After stopping a prolonged treatment with topical corticosteroids, it is recommended to continue applying a mild topical corticosteroid in the morning and to apply Daktarin Gold 2% cream in the evening, and to subsequently and gradually withdraw the steroid therapy over a period of 2-3 weeks. This medicine contains cetyl alcohol and stearyl alcohol which may cause local skin reactions (e.g. contact dermatitis). Also contains propylene glycol which may cause skin irritation.
Delivery
Standard Delivery
Free Delivery on all orders over £35.00
Orders below £35.00 are at charged at just £3.99
Delivery is within 2-3 days via Royal Mail 1st Class post.
Same Day Delivery
Receive your order on the same day, hand delivered by one of our delivery drivers.
A single charge of £5.99 per order
Available Monday to Friday - Cut off for same day delivery require orders to be placed before 3pm
Click and Collect
Order your product for same day collection at the branch closest to you FREE OF CHARGE
This service is currently in the process of being rolled out across all branches, however, during this time certain branches may not appear on the drop down menu.