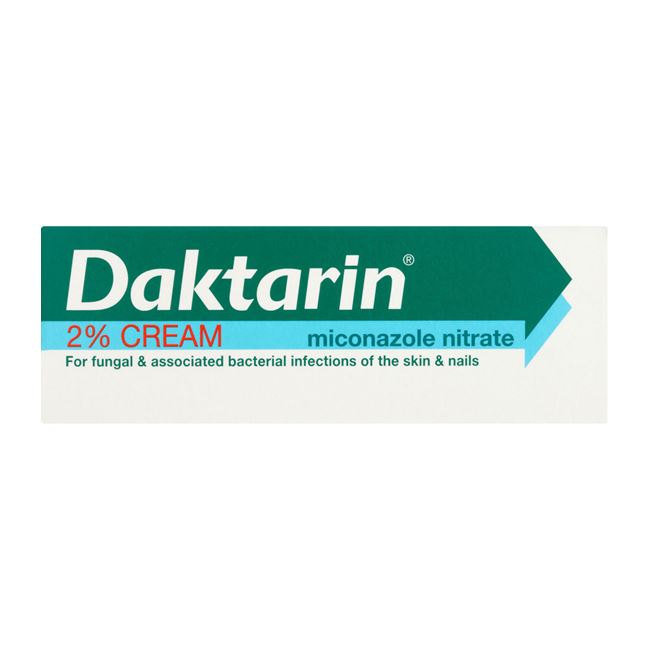 Daktarin 2% Cream 15g
For fungal and associated bacterial infections of the skin and nails
More Details
WARNING: Avoid if known hypersensitivity to the active substance(s), other imidazole derivatives or to any of the excipients. Daktarin 2% Cream must not come into contact with the mucosa of the eyes. If a reaction suggesting sensitivity or irritation should occur, the treatment should be discontinued. Contains 2 mg of Benzoic acid (E210) per gram which may cause local irritation and may increase jaundice in newborn babies (up to 4 weeks old). Also contains 0.052 mg/g of Butylated hydroxyanisole (E320) which may cause local skin reactions (e.g. contact dermatitis), or irritation to the eyes and mucous membranes. In patients on oral anticoagulants, such as warfarin, caution should be exercised and anticoagulant effect should be monitored.
Description
Ingredients
Delivery
Description
Used to treat fungal and associated bacterial infections of the skin and nails and is also effective against infected nappy rash.
Contains miconazole nitrate which works by destroying both the fungus that causes the infection and some of the associated bacteria which may also be present. It also has moisturising properites to help soothe cracked, red skin. This medicine is for use in adults and children of all ages.
How to use Daktarin 2% Cream
Fungal infections of the skin
Apply some cream to the lesions twice daily. Rub the cream into the skin with your finger until it has fully penetrated. If the powder is used with the cream, a once daily application of both formulations is recommended. The duration of therapy varies from 2 to 6 weeks depending on the localisation and severity of the lesion. Treatment should be continued at least one week after disappearance of all signs and symptoms.
Nail infections
Apply once or twice daily to the lesions and continue for 10 days after all lesions have disappeared to prevent relapse.
If you have any further questions about this product call our Browns Online Professional Pharmacist on 02476 364 586
Ingredients
Cream containing miconazole nitrate 2% w/w. (Each gram of cream contains 20mg of miconazole nitrate).
Delivery
Standard Delivery
Free Delivery on all orders over £35.00
Orders below £35.00 are at charged at just £3.99
Delivery is within 2-3 days via Royal Mail 1st Class post.
Same Day Delivery
Receive your order on the same day, hand delivered by one of our delivery drivers.
A single charge of £5.99 per order
Available Monday to Friday - Cut off for same day delivery require orders to be placed before 3pm
Click and Collect
Order your product for same day collection at the branch closest to you FREE OF CHARGE
This service is currently in the process of being rolled out across all branches, however, during this time certain branches may not appear on the drop down menu.