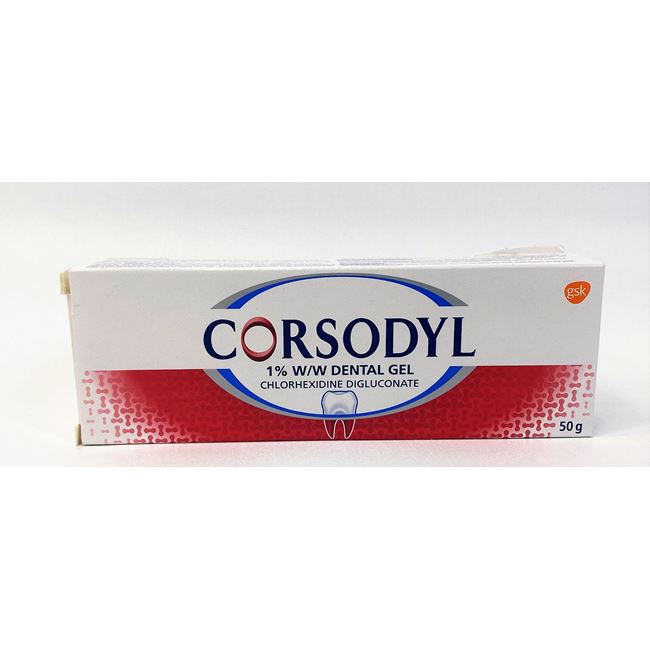 Corsodyl (Chlorhexidine Digluconate) dental gel 1% w/w 50g
Corsodyl dental gel reduces plaque formation and is for the treatment and management of a range of dental conditions
More Details
Description
Ingredients
Warnings
Delivery
Description
Chlorhexidine digluconate is an antibacterial agent, that rapidly kills bacteria reduce the formation of dental plaque within 30 seconds, additionially forming a protective antibacterial layer to prevent plaque build-up for up to 12 hours.
Targetting a range of teeth and gum conditions, it can be used for:
Treatment and prevention of gum disease
Maintaining mouth hygiene
Aftercare healing in dental surgery or treatment
Preventing recurrent oral thrush and mouth ulcers
Managing sores that may develop through the use of dentures
Reduce a high risk of cavities
How to use Corsodyl Dental Gel
Adults and Children over the age of 12 years
Do not swallow.
Toothaste can prevent Corsodyl from working as effectively. For best use either use the gel at a different time of day, or after brushing teeth rinse your mouth thoroughly with water and wait 5 minutes before using Corsodyl.
Do not rinse after applying gel.
Treating gum disease

Brush your teeth for at least one minute with 2cm of Corsodyl Gel once or twice a day. Continue treatment for approximately a month.

Treating mouth ulcers & oral thrush

Apply directly to the affected area using your fingertip or a cotton bud once or twice daily for at least 1 minute. Continue treatment for 2 days after it has healed.

Treating denture sore mouth

Brush all over the denture thoroughly with 2.5cm of gel on a moistened toothbrush, once or twice a day for about a month.

After dental surgery or tooth decay

Use as directed by your dentist, doctor, or pharmacist.
Children under the age of 12 years.
Not recommended
Possible side effects
Common side effects you may experience include:
Change of taste or burning sensation when first using it, don't worry this will go away with continued use.
Discolouration of the teeth and temporarily the tongue. Teeth can be cleared usually by brushing twice daily with toothpaste or by your dentist or hygienist. To reduce the risk of staining avoiding drinking tea, coffee or red wine, especially up to one hour after use.
One of the ingredients, Macrogol glycerol hydroxystearate may cause skin reactions
If you have any further questions about this product call our Browns Online Professional Pharmacist on 02476 364 586
Ingredients
Active ingredient: 1% w/w Chlorhexidine Digluconate
Other ingredients: Hydroxypropylcellulose, Macrogolglycerol Hydroxystearate, Sodium acetate, Levomenthol, Peppermint Oil, Isoprpyl alcohol and water.
Warnings
Do not use more than the recommended dose / May cause discolouration of the teeth and temporarily the tongue
Delivery
Standard Delivery
Free Delivery on all orders over £35.00
Orders below £35.00 are at charged at just £3.99
Delivery is within 2-3 days via Royal Mail 1st Class post.
Express Delivery (UK Mainland)
Next Day Delivery will cost £5.99
Cut off for Next Day is 2pm (Mon-Fri)
Orders placed after 2pm Mon-Fri will be dispatched the next working day.