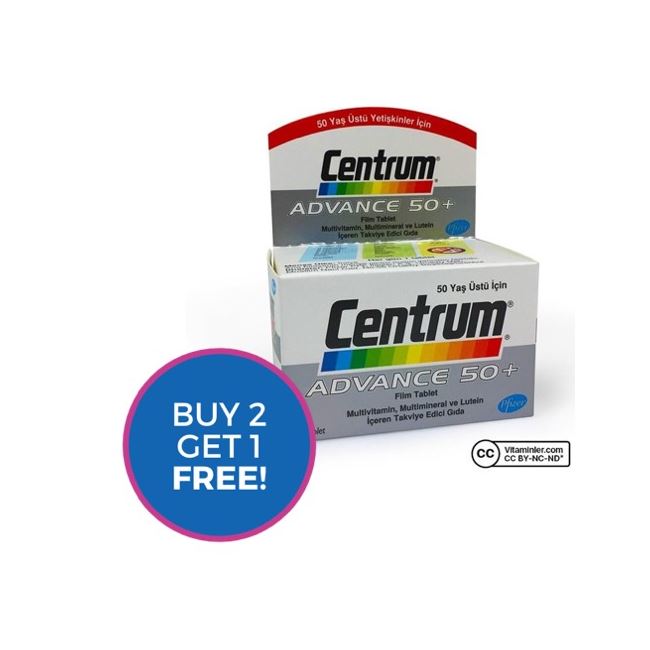 Centrum Advance 50+ Tablets
Specially developed to meet the essential needs of those 50 plus
More Details
Description
Ingredients
Delivery
Description
A formula for both men and women over the age of 50 and made to meet the needs that come with age. It has an improved easy to swallow tablet for those that may struggle. Full of nutrients to offer specific support for the adults over 50 so you can still be full of energy and remain a busy lifestyle.
How to take Centrum Advance 50+
Adults aged 50 or older
TakeONE tablet per day with water, preferably with food
If you have any further questions about this product call our Browns Online Professional Pharmacist on 02476 364 586
Ingredients
Vitamin A 800mcg, Vitamin E 18mg, Vitamin C 120mg, Vitamin K 30mcg, Vitamin B1 (thiamin) 1.65mg, Vitamin B2 (riboflavin) 2.1mg, Vitamin B6 2.1mg, Vitamin B12 3mcg, Vitamin D 5mcg, Biotin 75mcg, Folic Acid 300mcg, Niacin 24mg, Pantothenic acid 9mg, Calcium 162mg, Phosphorous 125mg, Magnesium 100mg, Iron 2.1mg, Iodine 100mcg, Copper 500mcg, Manganese 2mg, Chromium 40mcg, Selenium 30mcg, Zinc 5mg
, Molybdenum 50mcg
Delivery
Standard Delivery
Free Delivery on all orders over £35.00
Orders below £35.00 are at charged at just £3.99
Delivery is within 2-3 days via Royal Mail 1st Class post.
Same Day Delivery
Receive your order on the same day, hand delivered by one of our delivery drivers.
A single charge of £5.99 per order
Available Monday to Friday - Cut off for same day delivery require orders to be placed before 3pm
Click and Collect
Order your product for same day collection at the branch closest to you FREE OF CHARGE
This service is currently in the process of being rolled out across all branches, however, during this time certain branches may not appear on the drop down menu.