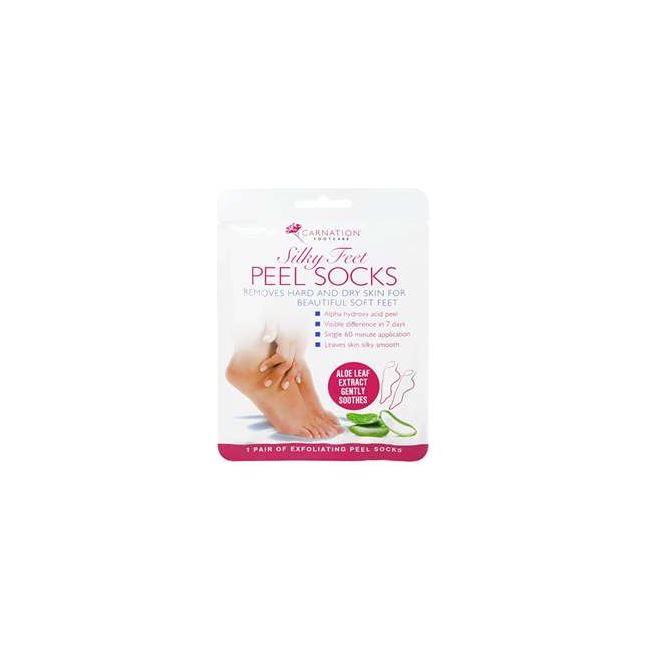 Exfoliating Peel Socks 1 Pair
Description
Ingredients
Warnings
Delivery
Description
Feet peel socks help soften hard and dry skin to help achieve soft feet. With a special formulation they lift away dead skin and gently exfoliates the callaused areas all over the feet and especially on the ball and heel of the foot.
How to use
Before using apply a small amount of the liquid contained within the socks to the skin to test for any allergic reactions
Ensure feet are clean and dry remove any nail polish
Seperate peel socks and use scissors to cut off the top to open the the socks and place on the feet and then gently securing with tab.
You can choose to wear normal socks over the top to ensure the socks are in contact with skin
Remove after 60 minutes
Wash both feet with warm water
After use the skin will become dry and hard and should not be peeled of by hand
Do not moisturise
After 3-7 days the skin will peel of naturally (this can continue for 2-4 weeks)
If you have any further questions about this product call our Browns Online Professional Pharmacist on 02476 364 586
Ingredients
Aqua, glycerin, alcohol, lactic acid, mandelic acid, hydroxyethycellulose, triethanolamine, butylene glycol, yeast beta-glucan, aloe barbadensis leaf extract, fragrance.
Warnings
For use on feet only
Avoid contact with fabrics and clothing until fully absorbed
Not to be used by people who have diabetes or cirulatory disorders
Discontinue use if any irritation or discomfort occurs
Do not use if you are allergic to any of the ingredients
Do not apply for broken skin
Avoid contact with eyes , if contact accurs rinse thoroughly with clean water
Keep out of reach and sight from children
Do not use any other products to remove/exfoliate skin whilst using this product or while skin is peeling
Delivery
Standard Delivery
Free Delivery on all orders over £35.00
Orders below £35.00 are at charged at just £3.99
Delivery is within 2-3 days via Royal Mail 1st Class post.
Same Day Delivery
Receive your order on the same day, hand delivered by one of our delivery drivers.
A single charge of £5.99 per order
Available Monday to Friday - Cut off for same day delivery require orders to be placed before 3pm
Click and Collect
Order your product for same day collection at the branch closest to you FREE OF CHARGE
This service is currently in the process of being rolled out across all branches, however, during this time certain branches may not appear on the drop down menu.