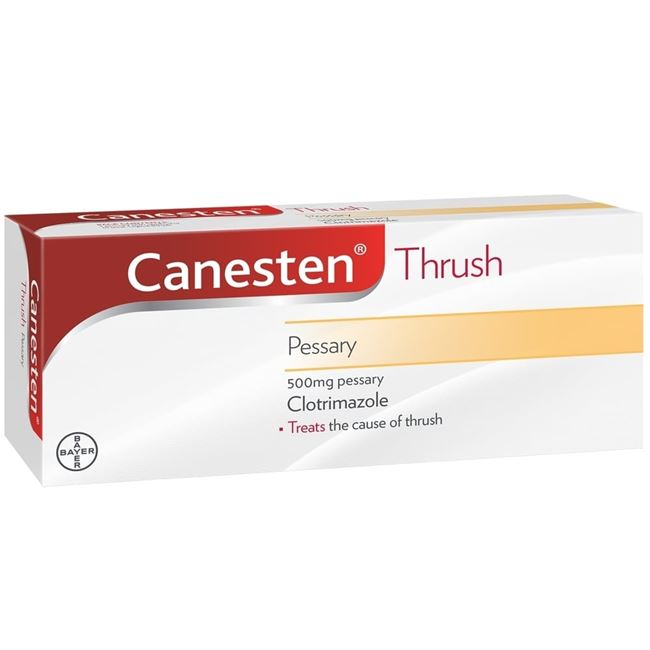 Canesten Thrush (clotrimazole) 500mg Pessary
Description
Ingredients
Warnings
Delivery
Description
What is thrush and how do I know I have it?
Thrush is caused by a yeast infection called Candida which usually lives harmlessly on parts of the body. Thrush occurs if the level of yeast increases, with growth tending to occur in warm, moist conditions and developing if the balance of bacteria changes. The balance may be disturbed by hormonal changes (menstruation, contraceptive pill, pregnancy, menopause), poor health, antibiotics, perfumed soaps, bath additives and tight clothing, not just poor hygiene.
Thrush can also less commonly occur in men, this is called balanitis (inflammation of the end of the penis).
The active ingredient in this product is clotrimazole which belong to a group of medication called azoles. The antifungal kills the yeast and fights the cause of the infection improving symptoms. A single white Canesten 500mg Vaginal Pessary held inside a foil blister pack, one applicator for insertion of the pessary
This is a full course of treatment for vaginal thrush, it treats both the internal cause and external symptoms.
Symptoms in women
Persistent burning and/or itching around the vagina and vulva
Redness, swelling and soreness of the tissues of the vagina and vulva
Whitish, odourless discharge from the vagina.
Symptoms in men
Soreness and redness of the penis
Tightness of the foreskin
White, odourless discharge from the penis.
Not everybody will have all these symptoms and some may only have one.
Browns Pharmacy tips to avoid thrush in women
Wear cotton knickers and loose clothing
Wash daily
After going to the toilet, wipe from the front to back
Change your sanitary protection regularly
Try to avoid wearing tights, nylon knickers and close-fitting jeans
Try to avoid washing with perfumed soaps or using vaginal deodorants
Do not wash or rub yourself hard with sponges or flannels and avoid hot baths with strong perfumed oils
How to use Canesten Pessary
Women over 16 years of age and under 60 years
Insert as high as possible into the vagina, for convenience and comfort, this is best done just before sleep at night
Pull the plunger at the end of the applicator until it stops

To fit pessary into the other end squeeze both sides of the applicator and squeezed pessary into the holder to about 1cm

Carefully put the applicator as deep as is comfortable into the vagina and slowly press the plunger until it stops.

Remove applicator and dispose of it safely
Symptoms should disappear within 3 days of treatment, if no improvement after 7 days contact your doctor.

Speak to your doctor before using this product if you have the following symptoms
Women
Irregular vaginal bleeding.
Abnormal vaginal bleeding or a blood-stained discharge.
Ulcers, blisters or sores of the vagina or vulva.
Lower abdominal pain.
Pain or difficulty in passing urine.
Fever or chills.
Nausea or diarrhoea.
A foul-smelling discharge from the vagina
Men
Your sexual partner does not have thrush.
You have sores, ulcers or blisters on your penis.
You have an abnormal discharge from your penis.
Your penis has started to smell.
You have pain or difficulty in passing urine.
If you have any further questions about this product call our Browns Online Professional Pharmacist on 02476 364 586
Ingredients
Main ingredient: clotrimazole 500mg
Other ingredients: lactose monohydrate, microcrystalline cellulose, lactic acid, maize starch, crospovidone, calcium lactate pentahydrate, magnesium stearate, colloidal anhydrous silica and hypromellose
Warnings
The pessary is for use in the vagina only.
Do not use tampons, intravaginal douches, spermicides or other vaginal products while using this product.
Only use this product if you have been previously diagnosed with thrush
Do not use this product if you:
are allergic to other medicines you have taken to treat fungal infections or to any of ingredients in this product.
Are on your period (may be less effective)
Talk to your doctor or pharmacist if you:
Are unsure you have thrush, or it is your fist time
have had more than two infections of thrush in the last six months
or your partner have ever had a sexually transmitted disease
are aged under 16 or over 60.
take other medication, especially:
tacrolimus or sirolimus
have any of the following symptoms:
Irregular vaginal bleeding.
Abnormal vaginal bleeding or a blood-stained discharge.
Ulcers, blisters or sores of the vagina or vulva.
Lower abdominal pain.
Pain or difficulty in passing urine.
Fever or chills.
Feeling sick or vomiting.
Diarrhoea.
A foul-smelling discharge from the vagina
This product may reduce the effectiveness of rubber contraceptives (e.g. condoms or diaphragms). You should use alternative precautions for at least five days after using this product.
Delivery
Standard Delivery
Free Delivery on all orders over £35.00
Orders below £35.00 are at charged at just £3.99
Delivery is within 2-3 days via Royal Mail 1st Class post.
Same Day Delivery
Receive your order on the same day, hand delivered by one of our delivery drivers.
A single charge of £5.99 per order
Available Monday to Friday - Cut off for same day delivery require orders to be placed before 3pm
Click and Collect
Order your product for same day collection at the branch closest to you FREE OF CHARGE
This service is currently in the process of being rolled out across all branches, however, during this time certain branches may not appear on the drop down menu.