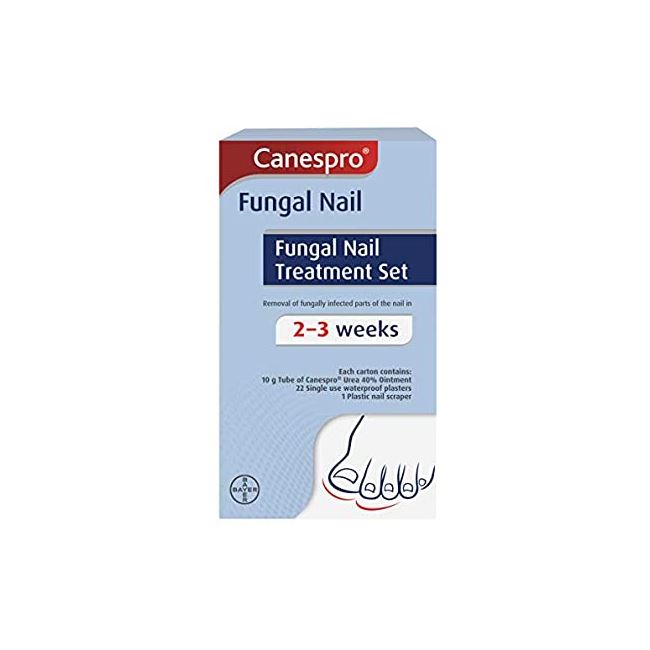 Fungal Nail Treatment Set
Clinically proven to remove infected parts of the nail in two to three weeks.
More Details
Description
Warnings
Delivery
Description
Canespro Fungal Nail Treatment Set offers two methods clinicallly proven to help remove infected parts of the nail. Urea 40% ointment works to soften the infected part of the nail and the easy to apply plasters inside the kit will keep the nail protected and covered until it is ready to gradually remove the infected parts.
This gentle removal usually takes two to three weeks and enables you to get to the main root of the infection - usually found under the nail plate.
Symptoms of a fungal nail infection include:
White, yellow or brown discolouration of the nail
Thickening of the nail
Build up of debris under the nail
Scaliness
Disorted shape of the nail
Brittleness
How to use Canespro Fungal Nail Treatment Set
If you are unsure whether you have a fungal nail infection consult the doctor or pharmacist.
One canespro nail set is sufficient for one big toe or two small toe or fingernails.
Treatment is required daily to see an effect in two to three weeks, with a follow-up treatment using an antifungal cream recommended after treatment.
If you have any further questions about this product call our Browns Online Professional Pharmacist on 02476 364 586
Warnings
FOR EXTERNAL USE ONLY
Use on toenails and fingernails only. Avoid contact with the eyes, mucous membranes and skin. Do not swallow or put in the mouth. Do not use if you are allergic to any of the ingredients. Keep out of sight and reach of children.
Delivery
Standard Delivery
Free Delivery on all orders over £35.00
Orders below £35.00 are at charged at just £3.99
Delivery is within 2-3 days via Royal Mail 1st Class post.
Same Day Delivery
Receive your order on the same day, hand delivered by one of our delivery drivers.
A single charge of £5.99 per order
Available Monday to Friday - Cut off for same day delivery require orders to be placed before 3pm
Click and Collect
Order your product for same day collection at the branch closest to you FREE OF CHARGE
This service is currently in the process of being rolled out across all branches, however, during this time certain branches may not appear on the drop down menu.