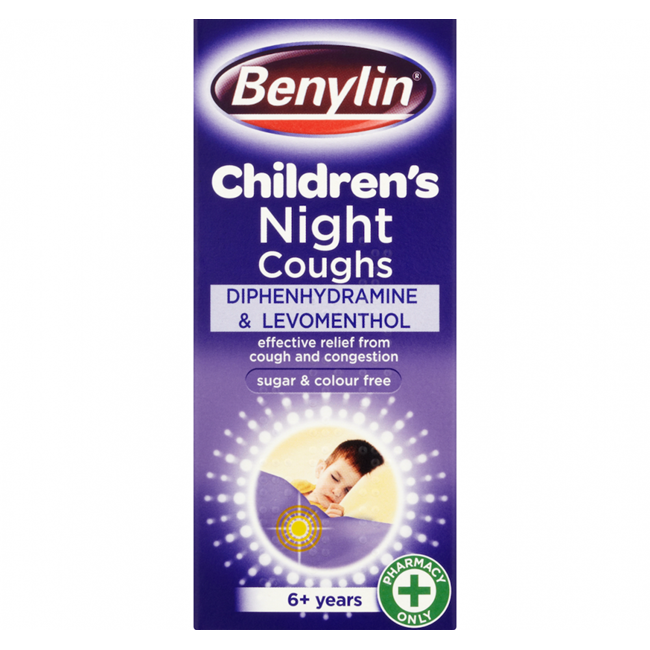 Benylin Children's Night Coughs 125ml
Effective relief from cough and congestion in children
More Details
Description
Ingredients
Warnings
Delivery
Description
Benylin Children's Night contains diphenhydramine hydrochloride which is an antihistamine that helps relieve coughing and dry secretions in the nose and chest, and levomenthol which aids easy breathing by relieving congestion.
Relief of cough and associated congestive symptoms, runny nose, sneezing, and treatment of hayfever and other allergic conditions affecting the upper respiratory tract.
How to take Children Night Cough Solution:
(Children 6-12 years)
TWO 5ml spoonfuls every 6 hours
Common Side effects -
Drowsiness, paradoxical stimulation, headache, psychomotor impairment, urinary retention, dry mouth, blurred vision, gastrointestinal disturbances, thickened respiratory tract secretions.
If you have any further questions about this product call our Browns Online Professional Pharmacist on 02476 364 586
Ingredients
Syrup containing 7mg Diphenhydramine HCl and 0.55mg Levomenthol per 5ml.
Warnings
Avoid Use in children under 6 years; hypersensitivity to the product or any of its constituents; with or within two weeks of receiving MAOIs. Not to be used for more than five days without the advice of a doctor; parents or carers should seek medical attention if the child's condition deteriorates during treatment; may cause drowsiness – do not drive or operate machinery if affected. Product should not be used to sedate children. Alcohol or other potential sedating medicines or other cough and cold medicine should not be used concurrently with this product. Use with caution: hepatic or moderate to severe renal impairment or urinary retention; in patients with, or susceptible to, angle-closure glaucoma; symptomatic prostatic hypertrophy. Consult a doctor if child suffers from a chronic or persistent cough, asthma or where cough is accompanied by excessive secretions.
Delivery
Standard Delivery
Free Delivery on all orders over £35.00
Orders below £35.00 are at charged at just £3.99
Delivery is within 2-3 days via Royal Mail 1st Class post.
Same Day Delivery
Receive your order on the same day, hand delivered by one of our delivery drivers.
A single charge of £5.99 per order
Available Monday to Friday - Cut off for same day delivery require orders to be placed before 3pm
Click and Collect
Order your product for same day collection at the branch closest to you FREE OF CHARGE
This service is currently in the process of being rolled out across all branches, however, during this time certain branches may not appear on the drop down menu.