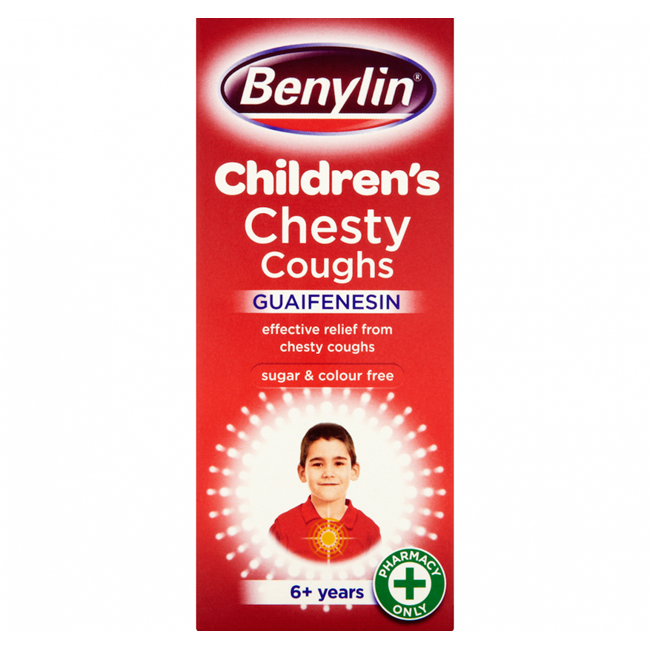 Benylin Children's Chesty Cough 125ml
Description
Ingredients
Warnings
Delivery
Description
Benylin Children's Chesty Cough Solution contains guaifenesin to help loosen mucus from the lungs and make it easier to cough up.
How to take Benylin Children's Chesty Cough :
(Children aged 6-12)
Give TWO 5ml spoonfuls four times daily, max daily dose 40ml.
If you have any further questions about this product call our Browns Online Professional Pharmacist on 02476 364 586
Ingredients
Syrup containing 50mg Guaifenesin per 5ml.
Warnings
Not for use in children under 6 years. Hypersensitivity. Not to be used for more than 5 days without the advice of a doctor. Parents and carers should seek medical attention if the child's condition deteriorates during treatment; do not use with cough suppressants; caution in chronic cough or asthma; caution in severe renal or hepatic impairment. See SPC for further details. Patients with rare hereditary problems of fructose intolerance should not take this medicine.
Delivery
Standard Delivery
Free Delivery on all orders over £35.00
Orders below £35.00 are at charged at just £3.99
Delivery is within 2-3 days via Royal Mail 1st Class post.
Same Day Delivery
Receive your order on the same day, hand delivered by one of our delivery drivers.
A single charge of £5.99 per order
Available Monday to Friday - Cut off for same day delivery require orders to be placed before 3pm
Click and Collect
Order your product for same day collection at the branch closest to you FREE OF CHARGE
This service is currently in the process of being rolled out across all branches, however, during this time certain branches may not appear on the drop down menu.