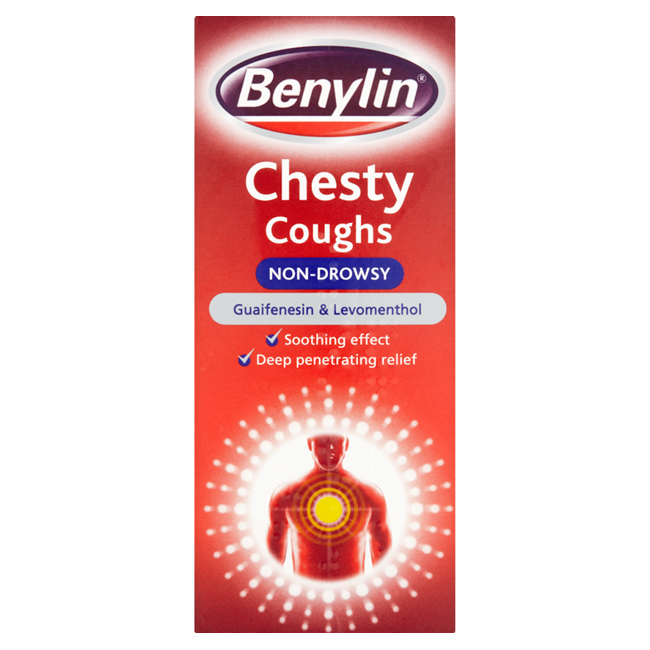 Benylin Chesty Cough Non-Drowsy Solution
Description
Ingredients
Warnings
Delivery
Description
A medicine which is used to help relieve chesty coughs. It contains Guaifenesin (an expectorant) to help loosen mucus (phlegm) from the lungs and make it easier to cough up, and Levomenthol to help you breathe more easily by easing congestion. Works deep down to loosen phlegm, clear bronchial congestion, and make the cough more productive.
Contact a medical professional if phlegm is green, yellow or red in colour as this may show signs of an infection.
How to take Benylin Chesty Cough:
(Adults and children aged 12 and over)
TWO 5 ml spoonfuls of syrup every 4 - 6 hours up to 4 times a day
Possible Side Effects -
Hypersensitivity reactions (hypersensitivity, pruritus and urticaria), rash. Abdominal pain upper, diarrhoea, nausea, vomiting
If you have any further questions about this product call our Browns Online Professional Pharmacist on 02476 364 586
Ingredients
Red syrup containing 100 mg Guaifenesin and 1.1 mg Levomenthol per 5 ml.
Warnings
Avoid if known hypersensitivity to ingredients. Use in children under 12 years. Do not use in persistent or chronic cough, e.g. asthma, or cough accompanied by excessive secretions; caution in severe renal or hepatic impairment. Patients with rare hereditary problems of fructose intolerance, glucose-galactose malabsorption or sucrase-isomaltase insufficiency should not take this medicine. Contains 5 vol % ethanol (alcohol). Can be harmful for those suffering from alcoholism. The ethanol content should be taken into account in pregnant or breastfeeding women, children and high-risk groups such as patients with liver disease or epilepsy. This product contains 16.42mg of sodium per 5ml. This should be taken into consideration by those on a controlled sodium diet. This product contains Ponceau 4R (E124) red coloring which may cause allergic reactions.
Delivery
Standard Delivery
Free Delivery on all orders over £35.00
Orders below £35.00 are at charged at just £3.99
Delivery is within 2-3 days via Royal Mail 1st Class post.
Express Delivery (UK Mainland)
Next Day Delivery will cost £5.99
Cut off for Next Day is 2pm (Mon-Fri)
Orders placed after 2pm Mon-Fri will be dispatched the next working day.