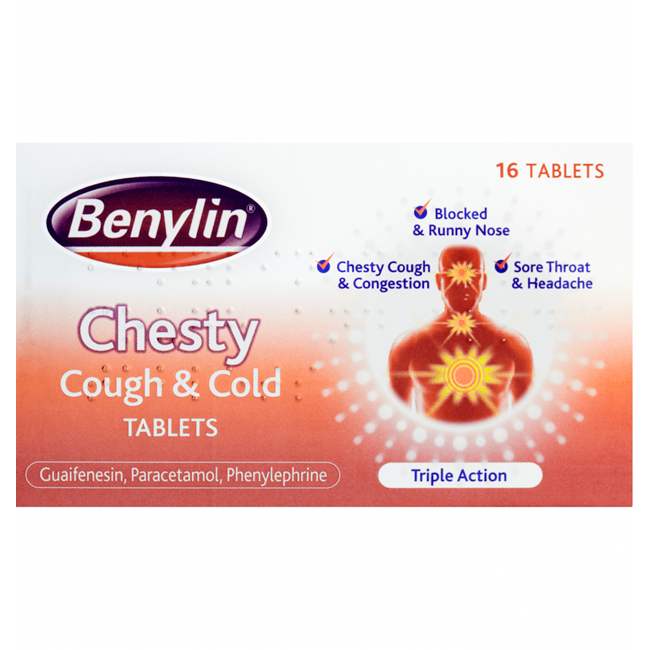 Benylin Chesty Cough and Cold Tablets 16
Description
Ingredients
Warnings
Delivery
Description
Used for the relief of symptoms of colds and flu, including aches and pains, headache, blocked nose, sore throat, chills and chesty coughs. The medicine contains paracetamol which is a pain reliever (analgesic) and helps reduce your temperature when you have a fever, guaifensin which is an expectorant to help loosen phlegm and phenylephrine which is a decongestant to reduce swelling in the passages of the nose to help you breathe more easily.
How to take Benylin Chesty Cough and Cold Tablets:
(Adults and children aged 12 and over)
TWO tablets every 4 hours as required. Do not take more than 8 tablets in 24 hours.
This product should not be used during pregnancy or breastfeeding without medical advice
Not recommended for children under the age of 12.
If you have any further questions about this product call our Browns Online Professional Pharmacist on 02476 364 586
Ingredients
Each tablet contains 250mg paracetamol, 100mg guaifenesin, 5mg phenylephrine hydrochloride.
Warnings
Avoid if hypersensitive to any of the ingredients, hepatic or severe renal impairment, hypertension, hyperthyroidism, diabetes, heart disease, glaucoma, including closed angle glaucoma, urinary retention, phaeochromocytoma, patients receiving other sympathomimetic drugs, or those taking tricyclic antidepressants or beta-blocking drugs, and those patients who are taking or have taken, within the last two weeks, monoamine oxidase inhibitors.
Patients suffering from chronic cough or asthma, enlargement of the prostate gland, occlusive vascular disease and cardiovascular disease should consult a physician before taking the product. Patients should stop using the product and consult a healthcare professional if cough lasts for more than 5 days or comes back, or is accompanied by a fever, rash or persistent headache. Not to take with a cough suppressant. Caution in patients with circulatory disorders, and prostatic hypertrophy. Use may give rise to insomnia, nervousness, hyperpyrexia, tremor, and epileptiform convulsions. Long-term use not recommended.
Delivery
Standard Delivery
Free Delivery on all orders over £35.00
Orders below £35.00 are at charged at just £3.99
Delivery is within 2-3 days via Royal Mail 1st Class post.
Express Delivery (UK Mainland)
Next Day Delivery will cost £5.99
Cut off for Next Day is 2pm (Mon-Fri)
Orders placed after 2pm Mon-Fri will be dispatched the next working day.