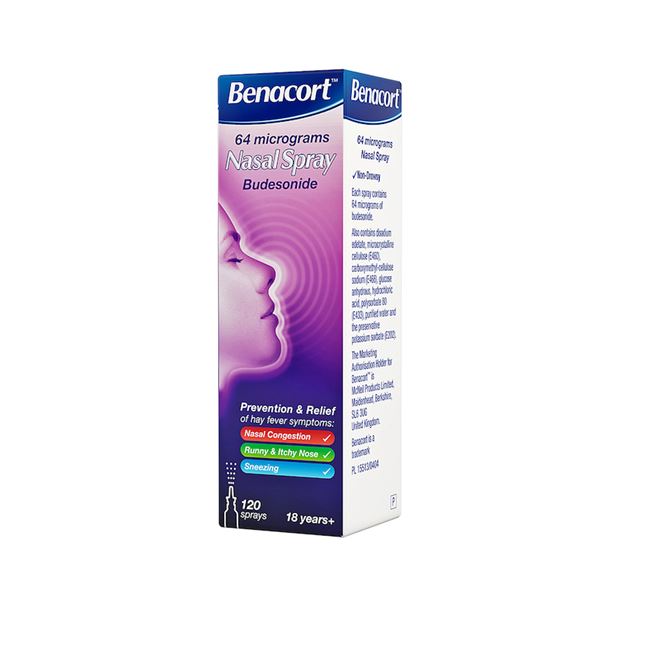 Description
Ingredients
Warnings
Delivery
Description
Contains Budesonide which is a non-halogenated glucocorticosteroid with a high local anti-inflammatory action within the respiratory tract.
How to use Benacort Nasal Spray
Adults over 18 years
Either TWO sprays (128mcg) into each nostril in the morning. Or ONE spray (64mcg) into each nostril morning and evening.
If a good effect is achieved, 64 micrograms into each nostril each morning. Full effect not achieved until after a few days treatment. Treatment of seasonal rhinitis should start, if possible,before exposure to the allergens. If symptoms are not controlled, or persist for longer than 2 weeks of treatment, medical advice must be sought. Benacort should not be used continuously for longer than 3 months.
Children under the age of 18 years
Not recommended
If you have any further questions about this product call our Browns Online Professional Pharmacist on 02476 364 586
Ingredients
Nasal spray, suspension. Each actuation contains 64mcg budesonide
Warnings
Do not take if you have hypersensitivity to active ingredient or to any of the excipients.
Avoid during pregnancy unless benefit outweighs risk. No effects on breast fed child are expected at therapeutic doses.
Do not use under the age of 18 years.
Delivery
Standard Delivery
Free Delivery on all orders over £35.00
Orders below £35.00 are at charged at just £3.99
Delivery is within 2-3 days via Royal Mail 1st Class post.
Same Day Delivery
Receive your order on the same day, hand delivered by one of our delivery drivers.
A single charge of £5.99 per order
Available Monday to Friday - Cut off for same day delivery require orders to be placed before 3pm
Click and Collect
Order your product for same day collection at the branch closest to you FREE OF CHARGE
This service is currently in the process of being rolled out across all branches, however, during this time certain branches may not appear on the drop down menu.