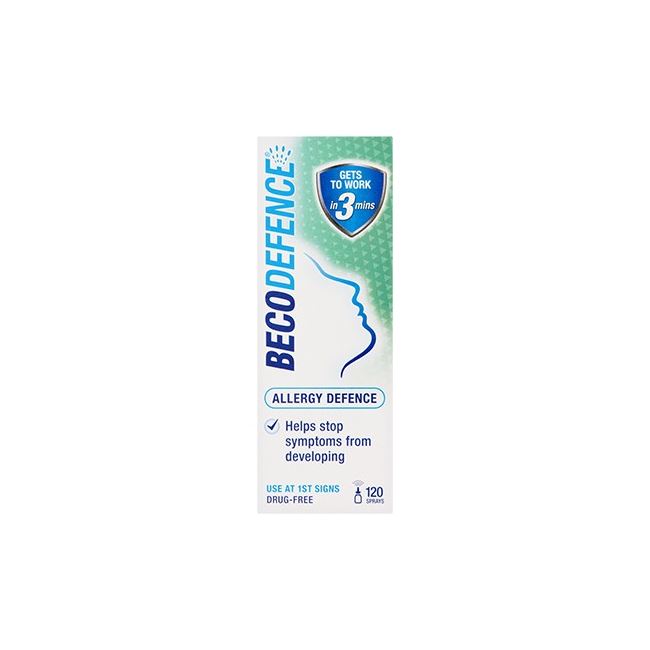 Becodefence Nasal Spray 120
Fast and effective allergy defence working FIVE times faster than hay fever tablets
More Details
Description
Ingredients
Warnings
Delivery
Description
Becodefence helps symptoms of hayfever from developing and worsening. It gets to work in as quick as three minutes, defusing the pollen rapidly. Becodefence contains a thixotropic formula which is a non-drowsy formula and when shaken up becomes a fluid that is easy to disperse which then settles back onto the nasal lining as a gel to block allergen contact.
Becodefence is drug free solution that helps stop symptoms from developing and getting worse. Symptoms can include:
Sneezing
Runny nose
Nasal congestion
Itchy/watery eyes
When to use BECODEFENCE
Use Becodefence as soon as you feel your body reacting to allergens, before the allergic reaction has fully developed
If an allergic reaction has already been triggered, Becodefence can be used in addition to other hayfever treatments so that further exposure to allergens that could cause another reaction can be prevented
It is also advised to use Becodefence before coming into contact with allergens, as it prevents them from reaching the nasal mucosal lining and limits allergy symptoms
How to use BECODEFENCE
Adults and Children 12 years and above
Apply 1 to 2 sprays into each nostril, two to three times a day and it works up to 6 hours.
Always blow nose before each application.
Before using shake the bottle vigorously in upright position at least 4 times
Turn the bottle upside down and shake again at least 4 times
Remove the cap from the bottle
Prime the pump by small sprays in the air before initial use. To prime press the white applicator down for 5-10 seconds and then release. Repeat until a full spray is obtained
Tilt head slightly forward. Hold the bottle upright insert the tip fully into the nostril and spray once. Spray once more if necessary. Do this in both nostrils
Tilt head backwards after application and breathe normally through your nose
Children under 12 years
Use Becodefence kids and under adult supervision.
If you have any further questions about this product call our Browns Online Professional Pharmacist on 02476 364 586
Ingredients
Bentonite veegum, xanthan gum, glycerol monostearate, pottasium phosphate, dipotassium phosphate, glycerin, sesame oil, water, mixed tocopherols, spearmint oil, preservatives
Warnings
Not suitable for children under 12 years.
This product contains sesame seed oil, do not use if you are sensitive to sesame oil or any other ingredients in Becodefence.
In the event of an allergic reaction to Becodefence you may experience symptoms such as a blocked or runny nose, localised pain, dryness, itching and swelling in the nose, watery eyes and rashes.
In case of a suspected allergy, discontinue use immediately and if symptoms persist, consult your doctor
Always read the label and packaging prior to use
Delivery
Standard Delivery
Free Delivery on all orders over £35.00
Orders below £35.00 are at charged at just £3.99
Delivery is within 2-3 days via Royal Mail 1st Class post.
Express Delivery (UK Mainland)
Next Day Delivery will cost £5.99
Cut off for Next Day is 2pm (Mon-Fri)
Orders placed after 2pm Mon-Fri will be dispatched the next working day.