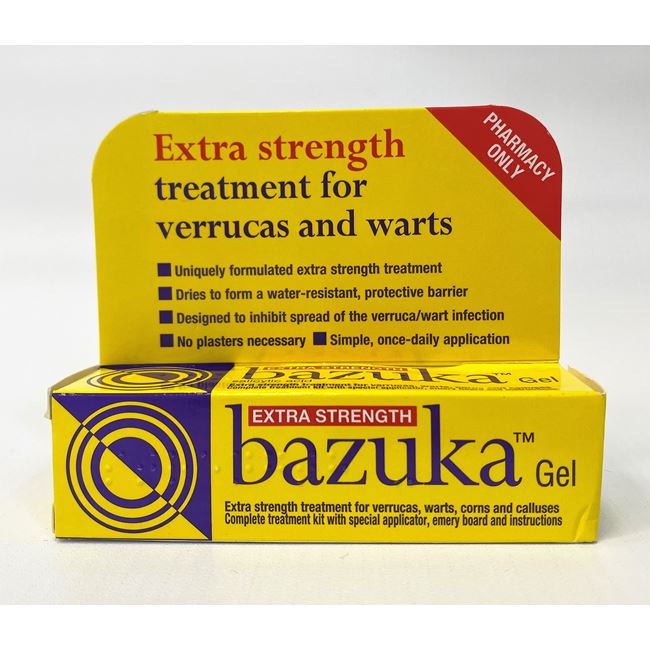 Bazuka Extra Strength (salicylic acid) 26% w/w Gel 5g
Bazuka Extra Strength gel is a topical treatment for warts, verrucas, corns and calluses.
More Details
Description
Ingredients
Warnings
Delivery
Description
Warts and verrucas are caused by a type of virus resulting in small excessive growths of skin
Warts appear often on fingers, or the back of the hands. They can be identified by the rough "cauliflower-like" appearance of the surface.
Verrucas are often only found on the sole of the foot. They can be painful and appear as a small white ring of skin with a black dot in the centre.
The virus is very infectious and the warts and verrucas are likely to spread, particularly if left untreated. It can also be transferred from one person to another.
Corns and calluses have hard, thick pads of skin and are more likely to appear on the feet but can also occur on the hands. They tend to be caused by pressure and friction such as poorly fitting shoes.
What the product does or its intended use Bazuka Extra Strength gel has a higher strength of the active ingredient salicylic acid than conventional gels. This effectively treats warts, verruca, corns and calluses by softening the skin. Once softened, the skin can be removed by pumice stone or emery board.
How to use Bazuka Extra Strength Gel
Before using first time:
Hold the tube upright and unscrew the combined white and yellow nozzle
Remove the red cap and keep tube upright for 30 seconds
Without squeezing or over-gripping, in the upright position:
- Replace white and yellow nozzle
- Tighten it to pierce the top of the tube
- Loosen briefly to release any pressure and retighten
To use the Gel
Soak the affected area for 2-3 minutes in warm water
Dry gently using a towel
Remove protective yellow cap
Carefully apply a thin layer (1-2 drops)
- Avoid getting onto the surrounding skin
5. Leave gel to dry and form a small white patch. Replace yellow cap on tube.
6. After a full day, peel/pick the patch carefully off the skin
- Apply gel
- If you can't remove the patch, reapply on top of it
7. Once a week, before reapplying, gently rub the affected area with an emery board provided, or a pumice stone
Some warts and verrucas can require up to 12 weeks treatment before they disappear. If they don't talk to your doctor or pharmacist.
Do not share your towel, emery board or pumice stone as the infection may spread to others.
If the gel gets on unaffected skin wipe it off immediately.
This product can be used during pregnancy and while breast-feeding
Possible side effects:
You may feel a slight tingling sensation and/or some mild tenderness at the treated area. This is usually temporary.
Rare cases it may appear as a temporary blemish on the skin
If you have any further questions about this product call our Browns Online Professional Pharmacist on 02476 364 586
Ingredients
Active Ingredients: salicylic acid 26.0% w/w
Other Ingredients: camphor, povidone, pyroxylin, ethanol, acetone and isopropyl alcohol
Warnings
Do not take more than the recommended dose.
The product is volatile and highly flammable. Do not use it near flames or ignition source (e.g. burning cigarettes or anything else that might ignite it).
Do not apply to broken skin, cuts and grazes.
Do not inhale the vapours of the gel.
Do not use Bazuka Extra Strength Gel:
if you are allergic to salicylic acid or any of the other ingredients
anywhere on or near your face, armpits, breasts, bottom or genital area
on birthmarks, moles, warts with hairs growing from them, or any other spots.
if you are diabetic or suffer from poor blood circulation to your hands or feet
Delivery
Standard Delivery
Free Delivery on all orders over £35.00
Orders below £35.00 are at charged at just £3.99
Delivery is within 2-3 days via Royal Mail 1st Class post.
Same Day Delivery
Receive your order on the same day, hand delivered by one of our delivery drivers.
A single charge of £5.99 per order
Available Monday to Friday - Cut off for same day delivery require orders to be placed before 3pm
Click and Collect
Order your product for same day collection at the branch closest to you FREE OF CHARGE
This service is currently in the process of being rolled out across all branches, however, during this time certain branches may not appear on the drop down menu.