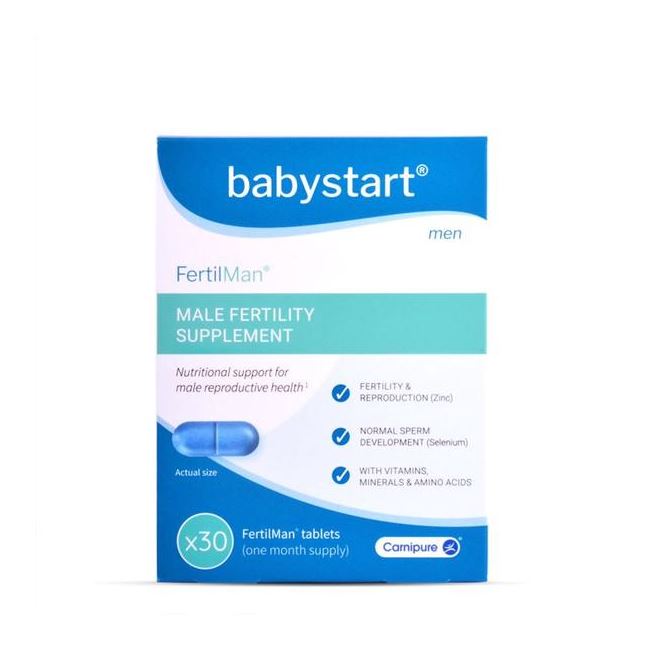 Babystart Fertilman Male Fertility Supplement 30
Nutritional support for male reproductive health
More Details
Description
Ingredients
Warnings
Delivery
Description
Multivitamin and mineral food supplement with amino acids and perfectly designed to provide nutritional support to help with reproductive health and general well being for males.
How to use Babystart Fertilman Male Fertility Supplement
Take one tablet per day after a meal. Swallow whole with a glass of water. Can be taken as soon as a couple start planning a pregnancy.
If you have any further questions about this product call our Browns Online Professional Pharmacist on 02476 364 586
Ingredients
Calcium carbonate, cellulose, arginine hydrochloride, carnitine tartrate, magnesium oxide, ascorbic acid, hydroxypropylcellulose, taurine, ferrous sulphate, maltodextrin, hydroxyproplmethylcellulose, Vitamin E acetate zinc oxide, silicon dioxide, nicotinamide, colours (spirulina extract, titanium dioxide, allura red AC, iron oxide), stearic acid, pyridoxine hydrchloride, magnesium stearate, cross-linked sodium carboxymethylcellulose, co-enzyme Q10. glutathione, riboflavin, folic acid, sodium selenite, vitamin D3, cyanocobalmin.
Warnings
Food supplements must not be used as a substitute for a varied balanced diet or a healthy lifestyle.
Do not chew.
Do not exceed the recommended intake.
This product is suitable for adults only .
Keep out of reach from children.
If you are taking any medication or have an existing medical condition please consult your doctor or a health care professional before using this product. This product contains iron, which, if taken in excess, may be harmful to very young children.
Delivery
Standard Delivery
Free Delivery on all orders over £35.00
Orders below £35.00 are at charged at just £3.99
Delivery is within 2-3 days via Royal Mail 1st Class post.
Same Day Delivery
Receive your order on the same day, hand delivered by one of our delivery drivers.
A single charge of £5.99 per order
Available Monday to Friday - Cut off for same day delivery require orders to be placed before 3pm
Click and Collect
Order your product for same day collection at the branch closest to you FREE OF CHARGE
This service is currently in the process of being rolled out across all branches, however, during this time certain branches may not appear on the drop down menu.