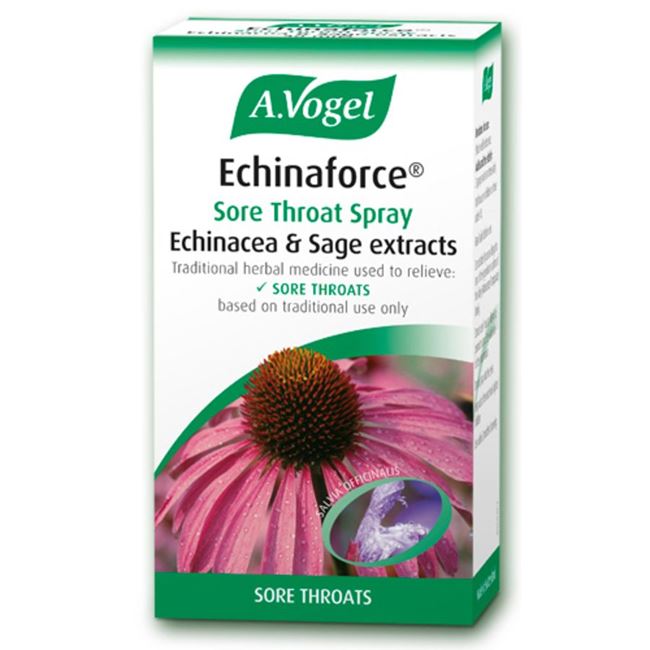 Echinaforce Sore Throat Spray 30ml
Traditional herbal medicine used to relieve sore throats
More Details
Description
Ingredients
Warnings
Delivery
Description
Enchinaforce sore throat spray is traditional herbal medicinal product used to relieve symptoms of sore throats , coughs cold and flu.
How to use A.Vogel Enchinaforce Sore Throat Spray:
(Adults 18 years and over)
Shake well before use. Two sprays six to ten times daily.
Not recommended for children under the age of 18.
If you have any further questions about this product call our Browns Online Professional Pharmacist on 02476 364 586
Ingredients
1ml of spray contains:
fresh echinacea herb 863.3 mg - (enchina purpurea) (L) (1:12-13) exraction solvent: ethanol 65% v/v
fresh echinacea root 45.5 mg - (enchina purpurea) (L) (1:12-12) exraction solvent: ethanol 65% v/v
fresh sage leaves 430.0 mg - (salvia officinalis L) (1:17-18) extraction solvent: ethanol 68% v/v
Warnings
This product contains ethanol this is harmful for people suffering with alcoholism
Contains soy lecithin, sorbitol liquid and sucrose laurate
Do not use if you are allergic to peanut or soya
Not for use in children or those under the age of 18
Do not take if you are allergic to any of the ingredients or plants or the daisy (asteraceae/compositae) family
Do not spray into the eyes
Keep out of sight and reach from children
Delivery
Standard Delivery
Free Delivery on all orders over £35.00
Orders below £35.00 are at charged at just £3.99
Delivery is within 2-3 days via Royal Mail 1st Class post.
Same Day Delivery
Receive your order on the same day, hand delivered by one of our delivery drivers.
A single charge of £5.99 per order
Available Monday to Friday - Cut off for same day delivery require orders to be placed before 3pm
Click and Collect
Order your product for same day collection at the branch closest to you FREE OF CHARGE
This service is currently in the process of being rolled out across all branches, however, during this time certain branches may not appear on the drop down menu.