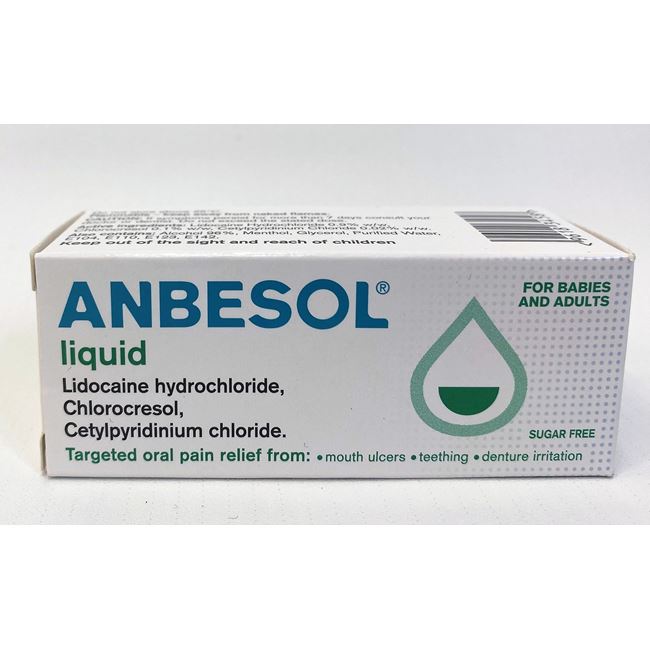 Anbesol Liquid (chlorocresol, cetylpyridinium chloride, lidocaine hydrochloride) liquid 10ml
Anbesol Liquid provides relief of pain and discomfort of teething and mouth ulcers.
More Details
Description
Ingredients
Warnings
Delivery
Description
This product is used to sooth pain and discomfort caused by teething in children, when other methods, like using teething rings and massaging the gum, do not provide relief. It can also be used by adults, children and the elderly to relieve pain due to mouth ulcers and denture sores
Anbesol contains a local anaesthetic (lidocaine hydrochloride) that numbs the area and also has antiseptic properties (Chlorocresol and cetylpyridinium chloride) to fight infection.
How to use Anbesol
Adults and the Elderly:
Apply to a clean fingertip by holding the finger over the top of the bottle and inverting once
Using the fingertip apply to the affected area
TWO applications straight away will be enough to relieve pain
Repeat 3 times if needed
Babies Teething and Children:
Do not use if child is under 5 months old
Apply to a clean fingertip by holding the finger over the top of the bottle and inverting once
Using the fingertip apply to the affected area
Repeat 3 times if needed
No more than 6 times in 24 hours
If your child vomits, spits or swallows the medicine wait 3 hours before using the medicine again.
Stop the treatment when your child's symptoms settle. Do not use for more than 7 days for each teething episode. Each ml of this product contains 46.5 vol% ethanol (alcohol) (up to 590 mg per ml, equivalent to 11.8 ml beer, or 4.9 ml wine) This may be harmful for those suffering from alcoholism.
Not for use in pregnant or breast-feeding women, children and high-risk groups such as patients with liver disease, or epilepsy
If you have any further questions about this product call our Browns Online Professional Pharmacist on 02476 364 586
Ingredients
Active Ingredients: lidocaine hydrochloride 0.90%w/w, chlorocresol 0.10%w/w and cetylpyridinium chloride 0.02%w/w.
Other Ingredients: s alcohol (96%), menthol, glycerol, caramel colouring (comprised of quinoline yellow (E104), amaranth (E123), sunset yellow (E110) and green S (E142) and purified water.
Warnings
Do not take more than the recommended dose.
Do not use Anbesol Liquid if you:
are allergic to lidocaine hydrochloride, chlorocresol, cetylpyridinium chloride, other anaesthetics similar to lidocaine or any of the other ingredients
have porphyria (a disease which causes stomach pain, constipation, changes in the colour of urine, skin rashes and disturbed behaviour)
Are taking other products containing lidocaine at the same time.
Let your doctor or pharmacist know if you:
have open wounds or damaged areas in the lining of your mouth as this may result in too much of the active ingredients being absorbed.
Take other medication, especially:
Other anaesthetics or medicines similar to lidocaine for example antiarrhythmic drugs such as mexiletine
Erythromycin a type of antibiotic
Itraconazole a type of antifungal medicine
Antiarrhythmic drugs such as amiodarone
Cimetidine
Beta-blockers
Calcium chloride
Codeine phosphate
Diamorphine hydrochloride
Paveretum
Quinine hydrochloride
Methylcellulos
Non-ionic surfactants such as Cetomacrogol 1000 and polysorbate 80
Anbesol Liquid contains chlorocresol and the azo dyes amaranth (E123) and sunset yellow (E110) which may cause allergic reactions.
Delivery
Standard Delivery
Free Delivery on all orders over £35.00
Orders below £35.00 are at charged at just £3.99
Delivery is within 2-3 days via Royal Mail 1st Class post.
Express Delivery (UK Mainland)
Next Day Delivery will cost £5.99
Cut off for Next Day is 2pm (Mon-Fri)
Orders placed after 2pm Mon-Fri will be dispatched the next working day.