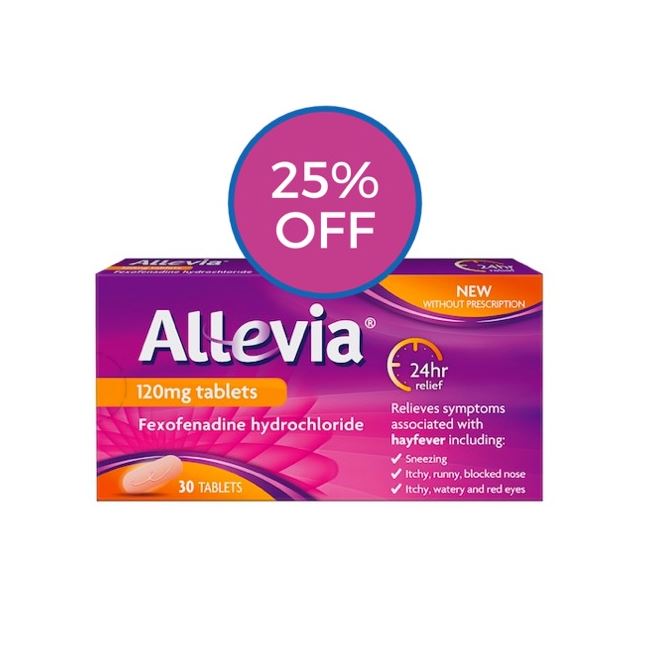 Allevia Fexofenadine 120mg Tablets
Description
Ingredients
Warnings
Delivery
Description
Allevia is a new brand of the non-drowsy antihistamine fexofenadine which is now available to buy over the counter without a prescription. Allevia can be used by adults and children over 12 years to relieve the symptoms of hayfever such as sneezing, itchy, runny or blocked nose and itchy, red or watery eyes.
How to take Allevia Tablets
For adults and children aged 12 years and over
The recommended dose is one tablet (120 mg) daily. Take the tablet with water before a meal.
This medicine starts to relieve your symptoms within 1 hour and lasts for 24 hours.
Allevia is not recommended for children under 12 years of age.
If you have any further questions about this product call our Browns Online Professional Pharmacist on 02476 364 586
Ingredients
The active substance is fexofenadine hydrochloride. Each tablet contains 120 mg of fexofenadine hydrochloride.
Tablet core: microcrystalline cellulose, pregelatinised maize starch, croscarmellose sodium, magnesium stearate.
Film coating: hypromellose, povidone K30, titanium dioxide (E171), colloidal anhydrous silica, macrogol 400, red iron oxide (E172) and yellow iron oxide (E172).
Warnings
Always read the label carefully before use.
Do not use if you are pregnant or breastfeeding.
Although Allevia should not affect your ability to drive or operate heavy machinery - check how you feel before commencing any of these activities.
Delivery
Standard Delivery
Free Delivery on all orders over £35.00
Orders below £35.00 are at charged at just £3.99
Delivery is within 2-3 days via Royal Mail 1st Class post.
Same Day Delivery
Receive your order on the same day, hand delivered by one of our delivery drivers.
A single charge of £5.99 per order
Available Monday to Friday - Cut off for same day delivery require orders to be placed before 3pm
Click and Collect
Order your product for same day collection at the branch closest to you FREE OF CHARGE
This service is currently in the process of being rolled out across all branches, however, during this time certain branches may not appear on the drop down menu.