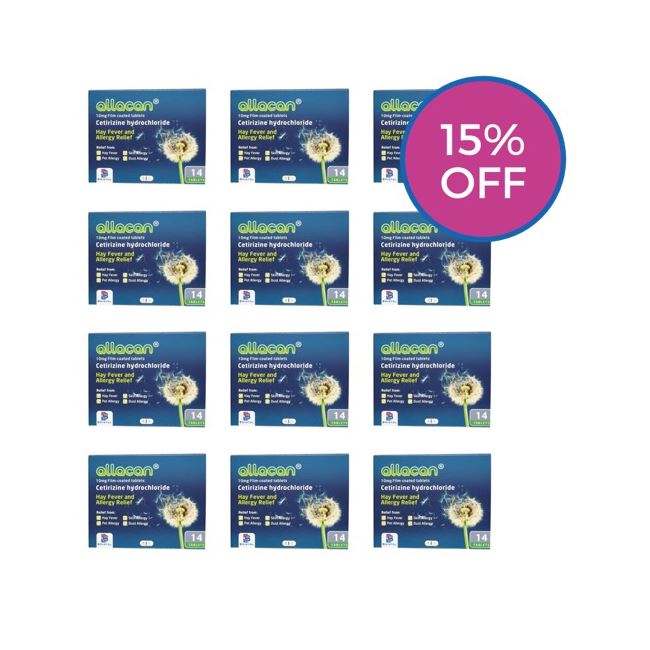 Cetirizine 10mg Tablets
Cover yourself for the whole of summer with our hayfever bundle
More Details
Description
Ingredients
Warnings
Delivery
Description
Cetirizine 10 mg tablets treat the symptoms of hayfever and other allergies associated with pets, house dust mites, mould spore and skin allergies such as a rashes or itches caused by nettles and hives. Cetirizine will prevent the symptoms associated with hayfever such as itchy and watery eyes, sneezing and a runny nose, as well as providing relief of swelling, redness and itchiness of the skin.
How to take Cetirizine 10mg Tablets
Children aged 6 to 12 years
The recommended dose is 5mg twice daily. To provide this dose, break the tablet in half and give the child half in the morning, storing the other half to be given in the evening.
Adults and Children aged 12 years and over
The recommended dose is 10mg once daily. This is best taken in the morning to prevent symptoms occurring throughout the day as you come into contact with pollen.
The duration of treatment depends on the type, duration and course of your complaints. If you forget to take a tablet, take it as soon as you remember, but wait at least 24 hours before taking the next tablet. Do not take a double dose to make up for a forgotten dose.
If you have any further questions about this product call our Browns Online Professional Pharmacist on 02476 364 586
Ingredients
Active Ingredients: Cetirizine Hydrochloride
Other Ingredients: Lactose monohydrate, maize starch, pregelantinised starch, purified talc, magnesium stearate, hypromellose, titanium dioxide and macrogol.
Warnings
Not recommended for children under 6 years.
Do not use if you have ever had an allergic reaction to antihistamines or to any of the ingredients in this medicine. Do not use if you have severe kidney problems.
Consult your doctor or pharmacist before use if you are pregnant, epileptic, have an enlarged prostate or scheduled to have any allergy skin tests.
Always read the label and packaging prior to use
Delivery
Standard Delivery
Free Delivery on all orders over £35.00
Orders below £35.00 are at charged at just £3.99
Delivery is within 2-3 days via Royal Mail 1st Class post.
Same Day Delivery
Receive your order on the same day, hand delivered by one of our delivery drivers.
A single charge of £5.99 per order
Available Monday to Friday - Cut off for same day delivery require orders to be placed before 3pm
Click and Collect
Order your product for same day collection at the branch closest to you FREE OF CHARGE
This service is currently in the process of being rolled out across all branches, however, during this time certain branches may not appear on the drop down menu.