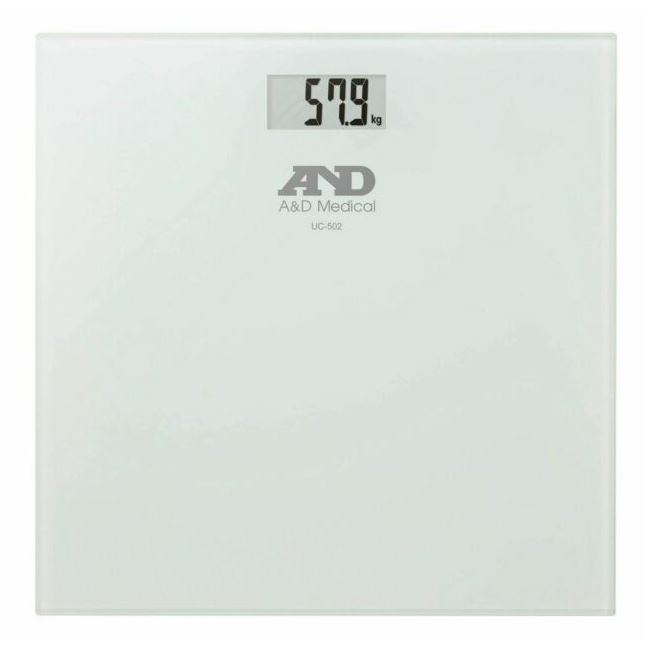 A&D UC502 Precision Health Scale 180kg Glass Plate
Lightweight, accurate and affordable for anyone looking to monitor their weight
More Details
SKU Code:
Precision Health Scale 180kg Glass Plate
Description
The A&D UC502 Precision Health Weighing scale has a slim, glass design with a high maximum weight capacity (180kg).
Whether you are trying to lose weight or just monitor your body weight, the Precision scales provides an affordable yet accurate method to keep control of your lifestyle. The no button technology requires the user to simply step onto the scales to get a measurement and the sleek design allows for quick conversion from kilogram to pounds, making them a great option for all people. The LED screen is bright and easily readable with SENSE ON technology which will turn the device off automatically after 4 seconds when the user steps off the scales.
Browns Pharmacy Weighing Advice
Weigh yourself once a week - If you are tracking progress you may be tempted to hop on the scale on a daily basis, however, this is not the most accurate method, due to daily fluctuations in body water will have a drastic effect on weight on a day-to-day basis. Weighing yourself at the same time on a weekly basis is more likely to give you an accurate picture.
Weigh yourself in the morning - For the most accurate weight, weigh yourself first thing in the morning. Do not weigh yourself after drinking a bottle of water or eating a meal. Weighing yourself in the morning is most effective because you have had adequate time to digest and process food.
Keep factors consistent - If you want the number on the scale to be accurate try and keep your variables the same. For example, if you weigh yourself without clothes on or after going to the toilet try to repeat the same next time you weigh yourself.
Track your progress - Whether you use a spreadsheet or a weight loss app. It will allow you to get an overall picture of what is happening to your body. It will also help you identify patterns to help you keep moving in the right direction.
If you have any further questions about this product call our Browns Online Professional Pharmacist on 02476 364 586
Delivery
Delivery and Returns
Postage and Packaging
Postage and packing will be added to the cost of your order and will depend on
The total cost of the items you order
The delivery option you choose
Items may be dispatched separately (P&P only charged once)
Delivery times are estimated. Notify us if your delivery does not arrive within 10 days.
Standard Delivery
Standard postage and packing on all orders up to £35 - £3.99
FREE standard postage and packaging on all orders over £35 (Includes the cost payable for any prescriptions in the same order)
Orders are sent by Royal Mail 1st Class post.
Your delivery may require a signature.
Orders are dispatched within 1 working day and are normally delivered to your chosen address within 3 working days.
Express Delivery
Next Day Delivery will cost £5.99 and will only be offered if all items in your basket are available for Next Day delivery.
Orders placed before 2pm Mon-Fri will be delivered the Next Day,
Orders placed after 2pm Mon-Fri will be delivered the following working day.
Please note Next Day Delivery is only available to mainland UK.
Delivery with your next prescription
Receive your item in your next prescription delivery or collection from one our stores across the West Midlands.
To be eligible for this service you must be signed up to our repeat prescription collection or delivery service with a branch, if you wish to sign up to this service click here
We will send your item to the branch and inform you when it is ready for collection or due to be delivered out with your prescription.